6th On Property Ram Sale 13th October 2021
Find us on Facebook for regular updates!
Shows & Sales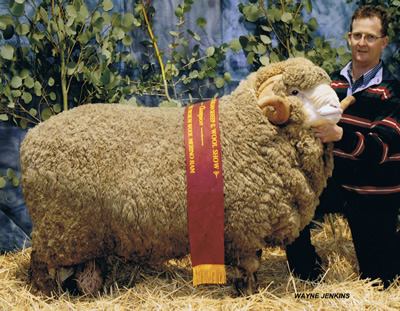 Champion Restricted Fine-Medium Ram 2008    Photo - Wayne Jenkins
R122 - Sire - Sunny Valley Albert
See Koole Vale Merinos at:
6th On Property Ram Sale 13th October 2021
52 Rams (Approx. 36 Polls) 
& 24 White Suffolks 
Inspection 10.30 Helmsman Sale 12.30 Lunch Provided. 28 Parfrey Rd Costerfield.
If you would like a catalogue phone, text or e-mail Alan.
Loddon Valley District Merino Field Day  February 2022

Displaying Show & Sale Rams at Serpentine Recreation Reserve
Won the Pen of 3 Ram Lambs in 2019
Bendigo Sheep & Wool Show 20th - 22nd July 2018
Sale, Sunday 22nd 1pm. - 2 Horn & 2 Poll
Lot 84-  BR359 - 20.3m x GLD x TP73. 26 months.A very productive ram with great spring of rib and good doing ability, a heavy cutting ram with a Medium/Strong fleece that will be one of the heaviest going around.
Lot 85 - Y515 -  19 m x GLD 2.08. 26 months. A stapley and soft medium ram with a strong head.
Lot 86 - W1216TW  19.3m x W1179 (Woolkabin family) 14months, a young Poll ram reared as a twin with great early growth. He has a great outlook and catches your eye. Carrying a soft bold medium wool he is one to inspect!
Lot 87 - B1180 - 20.4m x Nyowee 7.70 AI. 26 months. A soft fine-medium Poll AI bred Ram with a bright white wool that would handle any rainfall with just the right amount of nourishment.
Hamilton Sheepvention 6th & 6th August 2018
Offering 5 Rams and Showing
5 Poll
1. B760 - 20.7m x KV - B1171 x NY. A long bodied ram with a white fine-medium fleece with good density 
2. B753 - 21.4m x KV - B1171 x NY. The heaviest cutting ram in the team, with a bold heavy medium wool this Poll Ram has production.
3. W1199 - 20.2m x W1179 ((Woolkabin family). A square meaty ram with an attractive white medium wool.                                                 
4. B772 - 21.4m x KV - B1171 x NY. A very well balanced ram with a great outlook long body and dense medium fleece
5. B791 - 21.1m x KV - B1171 X NY. Another long bodied ram which is a trait of his sire B1171, stands tall and proud with a safe white productive wool.

North East Merinos Benalla Sale 14th  August 2018
Offering 6 Rams, 3 Horn & 3 Poll
2019
Sold 5 to a top of $3000. Average $2200. The Best Judged Wool Ram sold to G.Tuohey, Toolleen. 
2017
Sold 5 to a top of $2250 to Wattlebank Pastoral. Average $1550. The team weighed up to 111.5kg with 5 of the Rams weighing over 100kgs.
2016
Sold 8 Rams to a top of $1700 to Wattlebank Pastoral. Average $1220.
2015
Sold 7 rams to a top of $2200 to C & D Cann. Average $1440.
The team Averaged a Body weight of 93kg (Heaviest 106kg)
On Property Ram Sale Wednesday 13th October 2021
Helmsman Auction
Offering 52 Rams (Approx. 36 Polls). 
& 24 White Suffolk Rams
Inspection 10.30, Helmsman Sale 12.30pm Lunch Provided. 
2020 - Sold 49 to a top of $7000 to H.M & Barty & Sons 'Beverley". Also sold 2 Polls for $6700. averaged $2329. 
All 24 White Suffolks sold to a top of $1300 to the Farley family at Derrinal. Ave $962
2019 - Sold 37 to a top of $3000 twice to Gary Griffin and J & D Dickinson, ave $1643.  
All 21 White Suffolk's sold to $1500 to James Giamdiapetro, Ave $1100.
2018 - Sold 32 Rams to a top of $2300 to T & T Cattle, West Wyalong . Ave $1233.
all 18 White Suffolk's sold to $1350 twice (to K.Heal & L.Metcalf). Ave $1000.
2017 - Sold 32 rams to a top of $1900 to Ian Ross Mia Mia. Ave. $1006
all 15 White Suffolk's to $1100 to Muller Pastoral. Ave. $700
2016 - Sold 28 rams to a top of $1600 to Tattersall Bros. Ave $954
12 White Suffolks to $900 twice to Stan Artridge. Ave $712.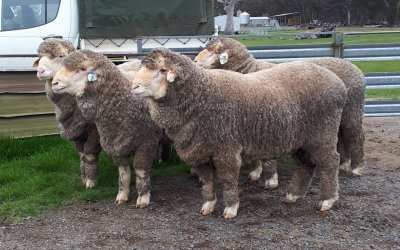 Private Sales Available after ram sale in three Grades
 $880 & $990 all inc. GST
The top Koole Vale horn and Poll rams are made available at some of the best merino shows and sales in Victoria including Bendigo (ASBA), Hamilton Sheepvention and the North East Sale at Benalla. 
Please feel free to approach any member of the Koole Vale team at any of the shows for further information, assistance or to arrange a no obligation inpections. A sheep classing service is available to all Koole Vale clients.